Our OBD diagnostic software for macOS, Windows and Linux got new version update yesterday. Along other changes, the version 3.1 includes important improvements for Bluetooth connectivity.
OBD Auto Doctor mobile apps have included support for Bluetooth Low Energy (BLE) dongles already. Now, we are happy to provide the support on all supported platforms. This includes support on Windows, Mac OS X / macOS and Linux. The selected BLE dongles work now with OBD Auto Doctor regardless the computer or phone you use.
BLE support on Windows
Windows 8 is the first Windows version to support Bluetooth LE. This means that you need to have Windows 8 or newer to take advantage of the new feature.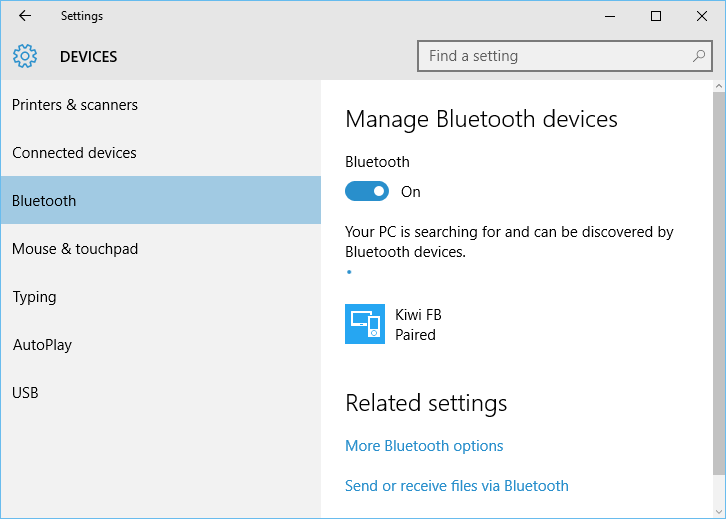 Before OBD Auto Doctor can connect to the BLE dongle, you need to pair the dongle in the system settings. In Windows 10, you can find Bluetooth settings by 'Settings' ⟶ 'Devices' ⟶ 'Bluetooth'. Make sure you have paired the dongle successfully before launching OBD Auto Doctor. OBD Auto Doctor will now find the device and take care of the rest.
BLE support on Mac OS X
OBD Auto Doctor can use Bluetooth LE on all supported OS X versions. Remember to check that your Mac has Bluetooth 4.0 hardware included. Macs started to have the hardware around 2011-2012. No pairing or other manual actions are required outside of the software to use these dongles.
BLE support on Linux
Bluez is the library in Linux that provides Bluetooth support. You need to have version of Bluez that has the support included. Check your distribution for more details.
Scanning BLE devices needs special rights. You can use superuser or root for that. Or you can give the application the needed permissions just once:
sudo setcap cap_net_raw,cap_net_admin=eip /usr/bin/obdautodoctor

After running the previous command, you can run obdautodoctor as normal user. Notice that some Linux distros require that you need to be part of the dialout group to able to use Bluetooth. To add an user to the group, issue:
sudo adduser username dialout

If you install the software using the .deb package, these actions will be taken care of automatically for you.
Get the update
You can download the latest version from the download page.
The list of supported BLE dongles can be found from here.
To utilise BLE dongle, you need to have a compatible computer with Bluetooth 4.0 hardware. If you have any questions or concerns, just leave a comment below.
Our OBD app for iPhone has been a great success this far. We've got some improvement ideas from you guys about making it e... Read more
Our OBD car app for Android has been a great success this far. Over 600,000 installations and over 1,100 five star reviews... Read more
Ready?
Subscribe and get started now!