In the previous app update for Android (version 2.2) we added support for multiple control units. The most common and usually the only control unit is the Engine Control Module. However, newer cars are starting to have more than the ECU responding to OBD2 requests. Most cars with automatic transmission have Transmission Control Module (TCM) available for example. There can be also other controllers depending on the manufacturer and model.
Our desktop software has had the support for multiple control units for ages but with the last update we brought the support to the mobile versions too. As with all mobile version updates, this update is completely free for all of our existing customers using the app in these platforms.
Android
In Android, the selection of control unit was added as dropdown spinner in the action bar. The screenshot illustrates a vehicle with three control units available. The selection can be made by opening the spinner by tapping the title and then selecting the appropriate control unit. The selected control unit is visible in every view where it matters and where it can be changed. After changing the control unit, the view data is refreshed from the car and information is shown for the selected controller.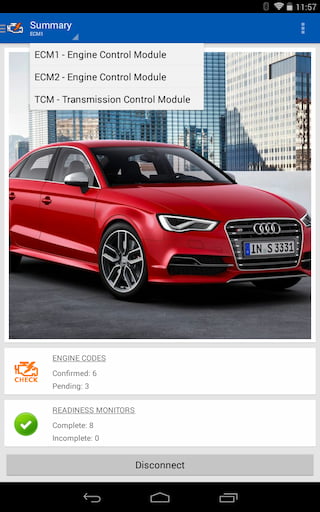 Get this OBD2 application from Google Play!
Update now
Now it's good time to update your app to the newest version. Remember that as with all the other features, your car needs to support multiple control units for them to show up in the app. If you have only one ECU listed, then your car has only one ECU responding to the OBD2 messages. Happy diagnosing!
We are pleased to announce the release of OBD Auto Doctor for Mac OS X. Mac support has been requested by many of you and... Read more
OBD Auto Doctor is coming for iPhone soon! We are very excited about this announcement as we are expanding our OBD2 softwa... Read more
Ready?
Subscribe and get started now!