Starting with Android and iOS app versions 6.1, and Windows, macOS, and Linux versions 4.1, it's possible to sign up and log in to OBD Auto Doctor software with Apple and Google credentials.
When you Continue with Apple or Continue with Google for the first time, an OBD Auto Doctor account is created automatically if you don't already have one.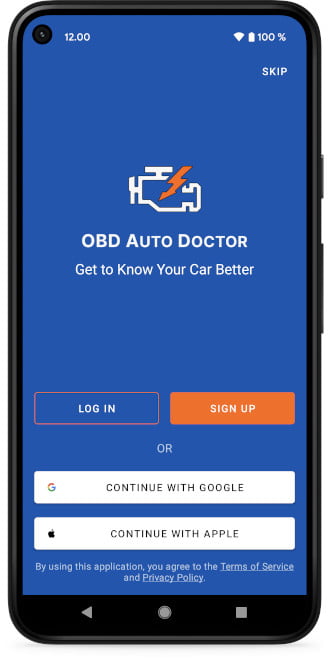 New users
Unless you have used OBD Auto Doctor before or don't have an account with us, you can now create an account in three different ways.
The traditional way is to create an account using an email address. The supplementary way, available immediately, is to continue with Apple or Google credentials. You can easily log in without entering a separate password when you continue with these third-party credentials.
Existing users
Read further if you already have an OBD Auto Doctor account and want to utilize third-party credentials for login.
Suppose your OBD Auto Doctor account email address matches the email address of the third-party credentials. In that case, the service will merge these into one account. You can either log in with your password or continue with Apple or Google. Your account and details stay the same.
On the other hand, if your account email address is different from the Apple/Google address, the Continue button will create an entirely new account. Please pay attention to this when choosing the method.
We have been working on a new website design and structure for the last couple of weeks. A few days ago, we decided to rel... Read more
OBD2 was designed mainly for read-only diagnostics. Yet, it has a few bi-directional controls. Test routi... Read more
Ready?
Subscribe and get started now!